Atomic essay #9 - the pen is mightier than the laptop
I love technology. Always have.
I love technology. Always have. I'm an early adopter of gadgets; I love seeing what things clever people build can do. I'm horrifically disorganised by nature – or, at least, I have been told this by others and myself enough for me to believe that's by nature – and I have turned to digital tools more and more in my bid to become more organised, more efficient and a 'better' human being.
But something hasn't been right.
My first interaction of the day – after the kettle and cafetiere – is with the iPad. Over coffee, I tap out some thoughts in a vague stab at journalling. I then organise items in my to-do list app before time-blocking important events into the calendar app. At work (school), I switch to my MacBook. Until recently, maybe weeks would go by before I'd pick up a pen.
Recently, though, things have started to change. I'd been drifting away from PowerPoint – it is ubiquitous in my school, which is also the only school in which I've ever worked – resorting to displaying documents via the projector, which I would edit during the lesson as needed. This wasn't enough, though – it wasn't how I wanted to teach. One day, I switched the visualiser on, dashed out a few ideas onto post-its, and shaped the lesson like that.
I loved it.
Last term, this approach – me, a pen, something to write on, the visualiser – became the default. Lessons weren't rigidly mapped out – instead, questions, little malleable and movable units of thought, and a lot of modelling were the order of the day. It wasn't that I didn't do these things previously – far from it – but less was in the way now. I've written about modelling in a previous post, so I won't go into detail about my thinking or processes here. But eschewing digital (or, at least, not defaulting to it) changed the shape, pace and spirit of my lessons – for the better, I think.
However, I still defaulted to digital in the rest of my life. The fear of disorganisation was still ever-present. Having broken up from school, I found myself tied to screens. I was still spending a lot of time on Twitter, for example, which meant I wasn't giving myself a break from education. I felt clogged – no matter how much I'd output into my digital realm, more and more would come back at me: tweets, articles, ideas, news. It was hard to think or create amidst the noise.
Then I read 'Steal Like an Artist' by Austin Kleon. This book will no doubt spawn more posts, but one idea above all resonated with me. Kleon has two desks: one for 'analogue' work and one for 'digital' work. Most of his work starts at the 'analogue' desk, at which he uses pens, pencils, paper etc.; he moves to the 'digital' desk to refine and polish. From this, I realised a problem: digital tools are excellent, but they are less 'human'. They aren't tactile. And they are often designed to distract. "Use your hands," urges Kleon. In this spirit, I rearranged my home office to have digital section and an analogue section.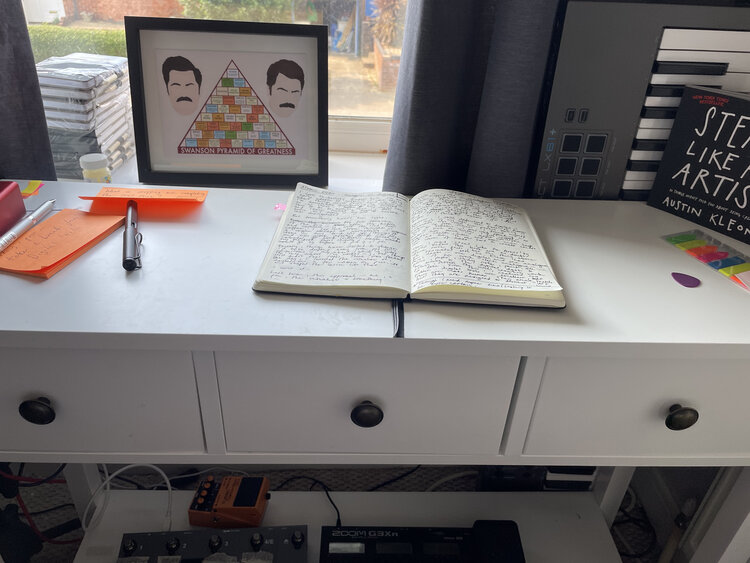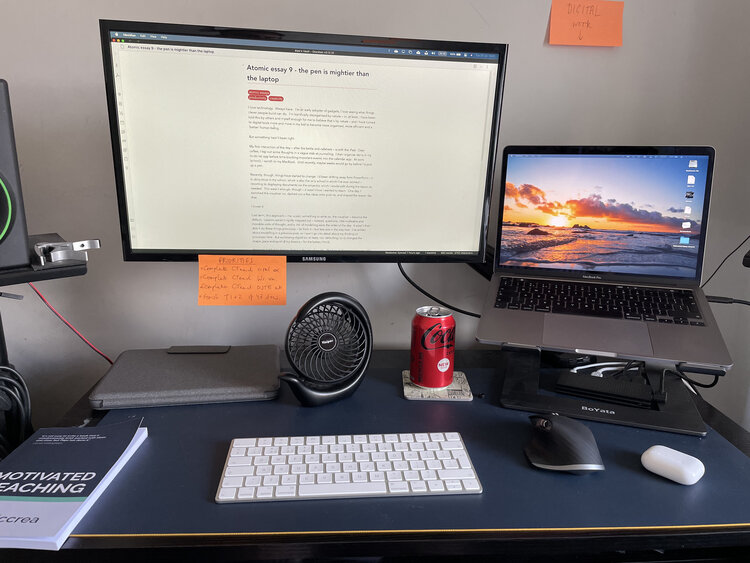 So, I write this now in a physical notebook, in fountain pen. One could argue that this might make no difference, and that tools don't matter. But I think tools shape output. When one uses software and hardware, one is working within the constraints of someone else's vision and design. With pen and paper, those constraints are gone. It is much easier to make things bend to one's will. There is greater freedom.
With freedom, I find, comes chaos, sooner or later. Despite my fear that chaos = disorganisation, I'm starting to embrace the chaos once again.
Who knows what may come of it?